The
Maybelline Instant Age Rewind The Perfector Powder*
claims
"Pressed powder and smoothing primer resurface and perfect skin, while adding a touch of radiance for a younger looking skin instantly."
First thing's first. This packaging was made with the in-the-purse, on-the-go type of girl in mind. The powder is on one side and there's a mirror and sponge conveniently placed on the other. Also, I tried the "drop test" out to see how if the powder would break, and it didn't!
When I tried this out on my arm, I saw shimmers and immediately got irked. I don't quite understand why cosmetics companies think glitters and shimmers are equivalent to "radiance" in products. In general, seeing shimmer in a product bothers me.
Despite the shimmers, they aren't actually visible on the face (sorry for the false alarm). I tried the colour Fair 10 which you'd think would be much too light for me. However, it turns out this powder is quite sheer, almost translucent. The powder has a mattifying effect that's not too matte or cakey and makes my skin look super smooth.
Not that I need any "age rewinding" (I'm only 19) but this powder was a hit for me. It's got great packaging features and the luminous matte finish that this powder offers is perfect for transitioning your makeup from summer to fall.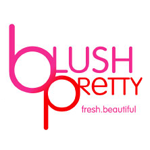 Products received for consideration are denoted with an asterisk (*).